The month that was – June 2018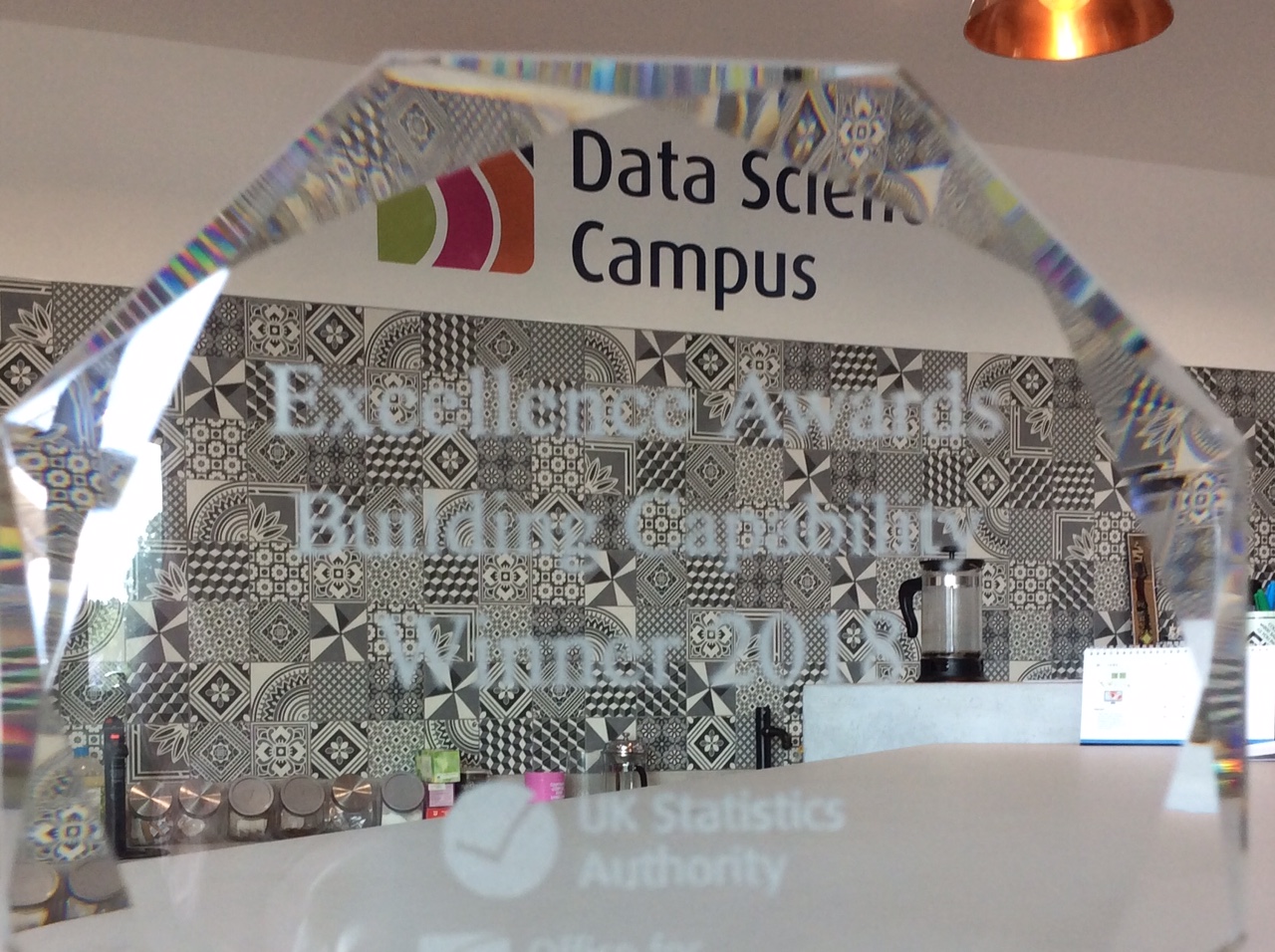 So, June was notable for (i) more uninterrupted sunshine than I can remember in the UK; (ii) the short-lived excitement of the office World Cup sweepstake (Saudi Arabia was my "lucky" team) and (iii) the following highlights of Office for National Statistics (ONS) Data Science Campus happenings.
This is one of a series of regular snapshots that highlight many of the things we've been doing to support data science for public good in the Campus. We have also published more detail on how we're delivering projects, building skills and supporting the data science community. For more information about any area of our work please contact us.
Research
We published our detailed research report "Analysing port and shipping operations using big data" on the Data Science Campus website. The project team used Automatic Identification System (AIS) and Consolidated European Reporting System (CERS) data to explore the behaviour of large vessels approaching UK ports and the likelihood of them being delayed. Potential future uses of the AIS dataset are being explored, including use as an early economic indicator.
The Campus has just started a project, in collaboration with ONS's Methodology Division, to explore the use of advanced data science techniques to create micro data or very granular datasets, with the same properties as the original dataset, but which do not disclose any private or personal information.
Since late 2016, we have been mentoring analysts from ONS and across the public sector in Wales and South West England through the parallel ONS Data Science Academy and Government Data Science Accelerator programmes. Applications for the next cohorts closed in June and we are expecting to mentor up to four places on these programmes over the next three months. We've recently published a list of the Accelerator projects we've mentored to date.
Growing skills
Working with our Government Data Science partners, we are running Art of the Possible sessions at six regional Civil Service Live events in June and July. These events are the government's annual, cross-department events, attracting thousands of civil servants from across the UK to learn, network and share best practice with the goal of providing better public service. Our Managing Director, Tom Smith, was at the opening event in Glasgow and talked about his journey and the skills that led to his leadership roles.
ONS has been shortlisted as Apprenticeship Employer of the Year for the Welsh Government Apprenticeship Awards. The application (written in partnership with Government Statistical Service Careers) focused on the Data Science Campus apprentices, collaboration with other government departments and the planned introduction of a degree-level apprenticeship scheme.
The Campus has also advised the Bank of England on the development of their data science capability, including train the trainer, career pathways, recruitment and project processes.
Growing our team
Alistair Edwardes joined ONS this month as our fourth Lead Data Scientist in the Campus, alongside Louisa Nolan, Phil Stubbings and Jasmine Latham. Alistair has worked in several UK government departments and brings experience and expertise in geospatial data analysis. He will be based in our Pimlico office in London.
The Campus finished its current round of recruitment for three Lecturers in Data Science. These positions will develop and deliver programmes across ONS and wider government in advanced data science techniques, including Artificial Intelligence and Machine Learning. They will also support existing programmes offered with the ONS Learning Academy in basic data science and analytics.
Data science community and partnerships
The new Economic Intelligence Wales unit was launched by Ken Skates, the Welsh Government's Cabinet Secretary for Economy and Transport, at the Royal Mint on 28 June. Our Managing Director Tom Smith also spoke about how the Campus would apply innovative data science tools, methods and practices to better understand small- to medium-sized enterprises (SMEs) and financial markets in Wales. This new unit is a partnership between the Development Bank of Wales (part of Welsh Government), Cardiff University and ONS.
We supported a week-long PhD challenge event at the Engineering and Physical Sciences Research Council (EPSRC) Centre for Doctoral Training in Statistical Applied Mathematics (SAMBa) at the University of Bath. PhD candidates at the event are working on a series of data challenges, including one set by the Campus on generating a geographic measure of loneliness risks in the UK. Campus data scientists were on site for part of the event to provide mentorship and sectoral expertise.
We have also been looking to explore potential projects for collaboration with a range of organisations over the course of the month, including the National Endowment for Science, Technology and the Arts (Nesta), the Financial Conduct Authority, the Cabinet Office Open Innovation Team, HM Treasury and the Office for Standards in Education (Ofsted).
International links
The Campus has hosted a visit from the University of Rwanda, who in turn are helping our partners at the National Statistical Institute of Rwanda to build data science capability. The visit has involved showcasing Data Science Campus projects plus discussions with our MSc in Data Analytics for government academic partners.
And finally
After some extensive on-site filming ahead of the Civil Service Live Events, the Campus was included in a short video – displayed at all the regional sessions – showcasing some of the innovative work going on across the UK Civil Service. My own insightful analysis was reduced to an eight-word clip, comfortably upstaged by an inflatable unicorn and a Lego robot. This is now my work life.
Over the next two months we will:
publish reports from more of our research projects
hold the first meeting of our new Advisory Board
make more appointments to roles that support the work of the Campus
start to mentor the successful public sector analysts from the latest round of the Government Data Science Accelerator programme
take some time off.
Please look out for our next update in September: we'll be sharing highlights from our activities over July and August.