Science outreach in the community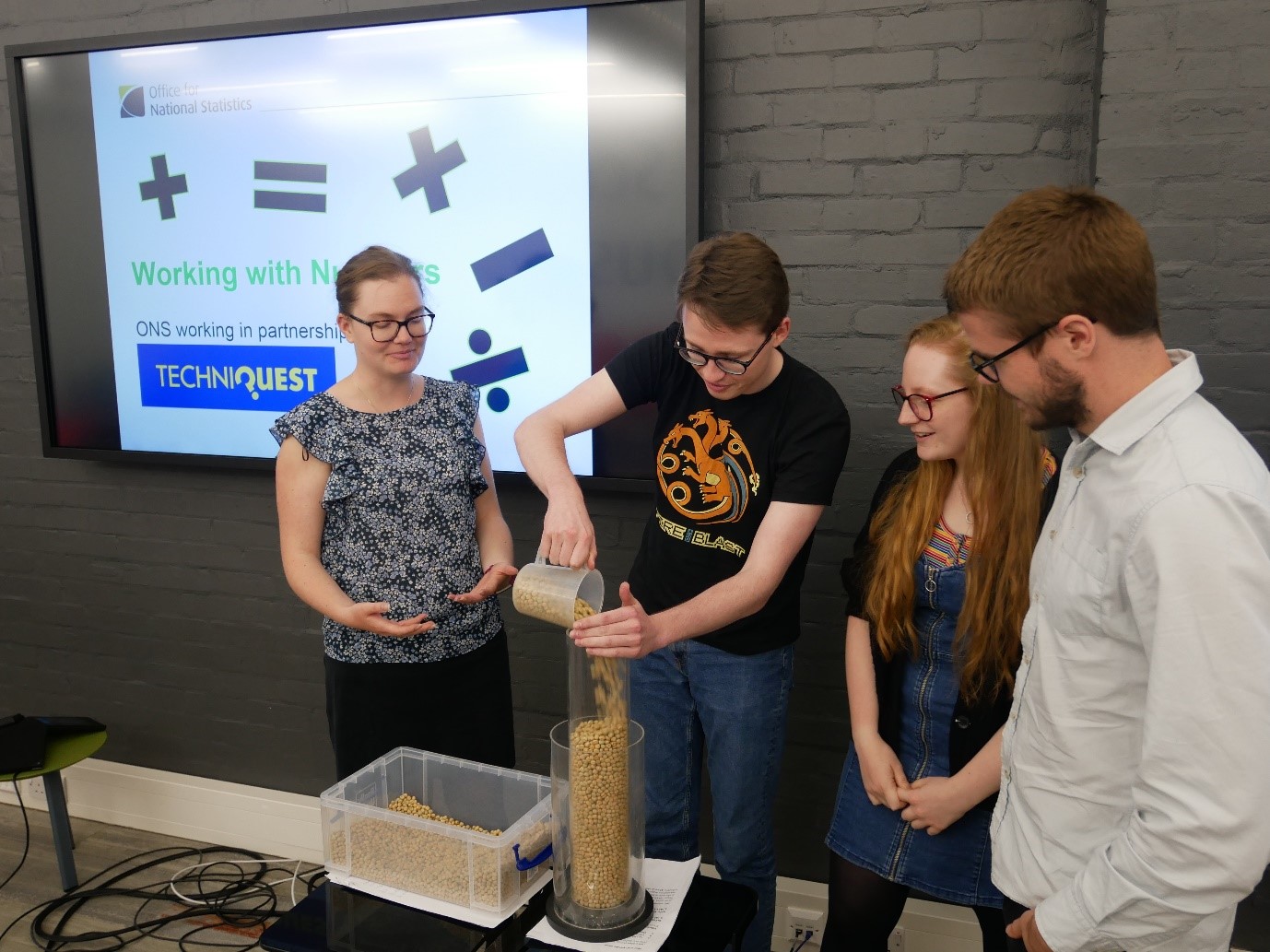 A-level results for 2019 in England and Wales showed that total entries by female students to science, technology, engineering and maths (STEM) subjects were up 2.5 and 3.3% respectively, compared with those in 2018.
This is great news, and reflects the efforts made by organisations such as STEM Learning, Women in Science and Engineering (WISE) and STEMettes to encourage more girls to take up these subjects. Just last year, the Data Science Campus organised a Girls into STEM workshop in partnership with STEM Cymru and the Engineering Education Scheme Wales.
However, overall boys still represent most of the STEM subjects entries with a majority of 56.7% in England and 56.6% in Wales.
Defining Science Capital
When looking more closely, there's more to it than just a gender disparity. Research suggests that students with a low "science capital" (PDF, 6.65MB) are less likely to aspire to continue with science post-GCSE and see a potential career for themselves in a STEM field. Science capital is a concept that can help us to understand why some young people participate in science post-age 16 years and others do not. It is thought of as having eight main dimensions:
scientific literacy, or knowing about (and having confidence in their knowledge of) science
science-related values, or seeing the relevance of science in everyday life
knowledge about the transferability of science skills and qualifications
science media consumption
participation in scientific learning in out-of-school contexts
family skills, knowledge and qualifications in science
knowing people in science-related roles
talking about science in everyday life
According to the Enterprising Science national survey of 3,658 11 to 15-year-olds in England, only 5% have high science capital (more likely to be male, South Asian and socially advantaged), while 68% have medium levels of science capital and 27% have low science capital.
Schools Engagement Strategy
The Data Science Campus's new Schools Engagement Strategy aims to build science capital in primary-aged children by visiting schools to help pupils understand how numeracy and statistics have a role in everyday life and talking to them about working at the Office for National Statistics (ONS) and the Campus.
We are also partnering with Techniquest, an educational charity who provide links to schools in their network, activities for events and training for staff in organisations, such as the ONS, wanting to be involved in engagement with schools.
In July 2019, the first teams of our newly trained STEM Ambassadors from across the ONS visited three schools in Newport, Cardiff and Sully. Each pair of ambassadors spoke to several classes of children aged from 8 to 10 years, describing the relevance of numeracy in the real world and exploring some of the work that the ONS and the Data Science Campus does.
The ambassadors then gave the pupils a teamwork and problem-solving task – pretending they were managing Arctic research bases and ensuring that each base had enough scientists, food, and experiments. The pupils really enjoyed the problem-solving task, and it was fascinating to see their creative approach to problems that we, as adults, would not have considered.
Pupils also explored the interactive baby names tool on the ONS website. They found their own names, as well as those of their favourite celebrities and members of the Royal Family, and it was a great way to show them how to interpret a graph!
STEM Ambassadors Testimonials
Similarly, our STEM Ambassadors found the experience greatly rewarding:
"The STEM outreach opportunities have been really interesting, and I've enjoyed working with and inspiring young children." – Abbie Cochrane, Assistant Statistician, ONS
"I'm really grateful to have had the opportunity to participate in the schools outreach programme this year. Planning the session really opened my eyes to the impact that the ONS statistics have and this has stuck with me since. Visiting the school was energising; I found the students to be really engaged and interested in the session. Explaining our work and the power of statistics to a class of 10-year-olds was a different challenge to those that I usually face in the office! I'd recommend the experience to anyone. For a relatively low time-commitment there are noticeable benefits for both the students and yourself." – Ellen Horner, Data Collection Programme, ONS
As the new school year begins, we plan to expand the work of the Schools Engagement Strategy, improving our offer for schools, visiting more of them and offering a wider range of different activities for different age-groups.