The month that was – August 2017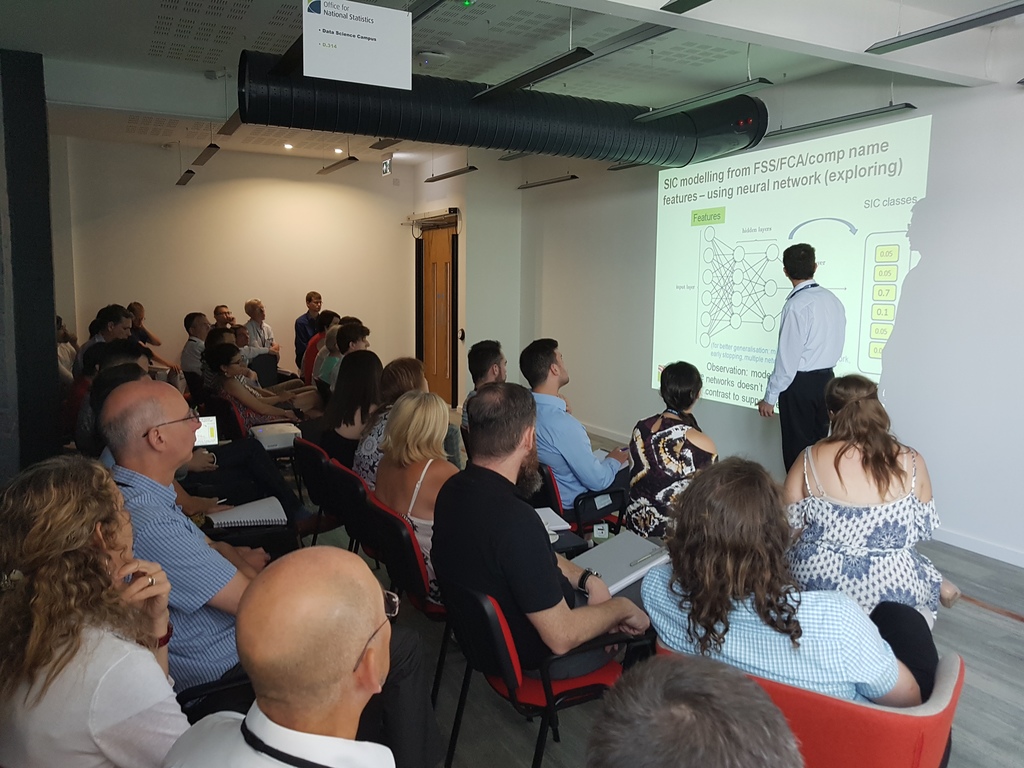 Welcome to "the month that was", providing you with a snapshot of what we've been doing this month to support data science for public good.
We are on the road this week at two high-profile events: Data for Policy conference with colleagues in the Big Data and Public Policy and Analysis teams and also leading an invited data science session at the Royal Statistical Society Conference in Glasgow. If you are at either of these events please come and talk to us about our current projects and potential future collaborations.
Projects
We have now published details of the projects that we are working on, to give you an insight into the questions we are tackling. We'll be adding more information about each project over time – and exploring new ways of sharing our progress with you – but do take a look and get in touch to find out more.
We have been making good progress on our calorie counting project, running simulations using bio-metric data on calorie consumption obtained from Cambridge University and comparing against self-reported food consumption. The first results from this work will be presented later this week at the Royal Statistical Society Conference.
Our FinBins project on machine-learning classification of 100,000 finance sector organisations has stepped up a gear, developing random forest predicted classifications based on administrative data collected by public agencies, Office for National Statistics (ONS) survey data held at individual company level, and published data from the Financial Conduct Authority on regulatory permissions. As part of this project, we've been road-testing the new ONS data infrastructure, simultaneously running algorithms on 500+ processors. This project is in partnership with the ONS Enhanced Financial Accounts team and the Bank of England, and early findings are being presented at the Data for Policy conference later this week.
Data science community and partnerships
Although August is often the quietest month of the year, the Campus hosted several high-profile visitors from the UK and around the world. These included a delegation from the New Zealand government and Statistics Canada who were keen to learn from our experience of setting up a data science campus.
Caroline Noakes, Parliamentary Under-Secretary of State at the Cabinet Office, joined us for a tour of the campus and to learn more about our work, specifically our cross-government capability activities and partnerships.
And Glyn Jones, the Chief Statistician for Wales, also agreed activities to further support the growth of data science within Welsh Government.
Following a visit by journalist Chris Giles, the Financial Times ran a positive online article on ONS and the Data Science Campus, highlighting the innovative research underway with a focus on our Super-Fast Gross Domestic Product project. Our Managing Director, Tom Smith, was later interviewed live on Sky News, with lots of questions on unicorns.
We also hosted Rachel Skentelbery, Head of Statistical Quality and Data Science at Office for Standards in Education, Children's Services and Skills (Ofsted) and discussed how we could support skills development as part of the Campus's regional hub initiative.
Growing skills
Here at the Data Science Campus we host the Newport hub for the Government Data Science Partnership (GDSP) Accelerator Programme. The latest cohort of 3-month projects has just concluded with impressive presentations from the latest graduates we have been mentoring on this scheme. Our hub is expanding each quarter and the partnership is inviting applications for the next round of accelerator projects in September.
In preparation for upcoming capability building and scoping visits to National Institute of Statistics of Rwanda and the United Nations Economic Commission for Africa, David Johnson and Louisa Nolan attended a 2-day workshop on 'Thinking and Working Politically', organised by the National School of Government International (NSGI).
We also joined the Apprenticeship Trailblazer group, led by the ONS Learning Academy. The Trailblazer group is a working group of industry and government representatives developing the framework and standards for a level six (degree) Apprenticeship in Data Science to be used across the public and private sector in England. The Campus is participating on behalf of both ONS and the Government Data Science Partnership in this working group.
The month ahead
During September we are off to Rwanda to support capability building in their National Institute of Statistics. This is an exciting opportunity, where we plan to share our knowledge of data science and collaborate with the statistics institute.
Our first group of data analytics apprentices are about to embark on the next phase of their apprenticeship, as they fly the nest to undertake new projects with departments across ONS. We will also welcome our second cohort of Data Science Apprentices to the Campus.
Our next recruitment round for data scientists is fast approaching – keep an eye on the blog and Twitter for updates – and new recruits from the recent round will be joining the Campus.
We will be publishing early outputs from several of our data science research projects, presenting at the relaunch of Statistics Netherlands Center for Big Data Statistics in Heerlen, and visiting the Northern Ireland Statistics and Research Agency to discuss data science capability building.
For more information about any area of our work please contact us.