The months that were – March and April 2018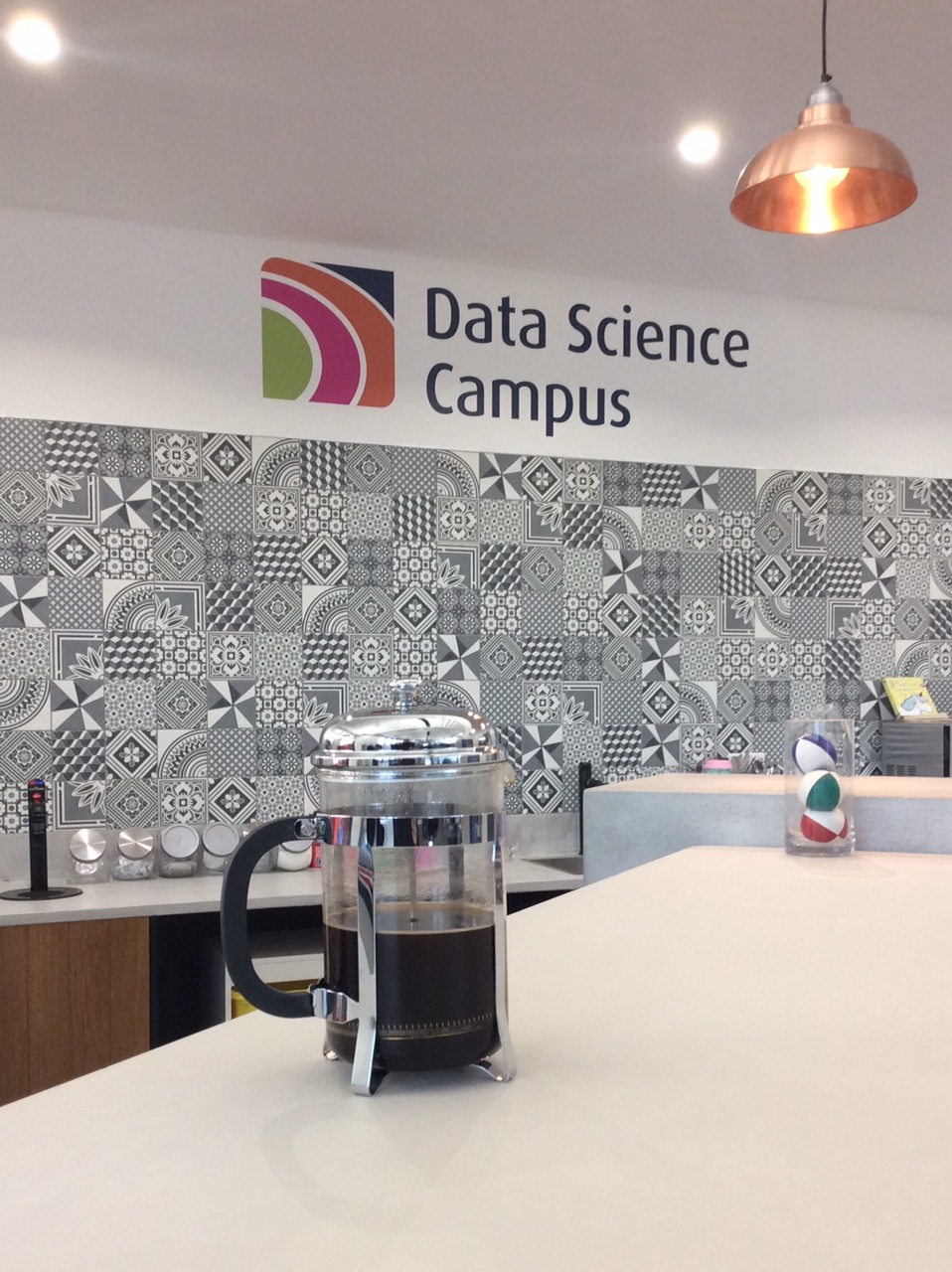 Here's the latest "monthly" update for the Data Science Campus, covering both March and April 2018.
We took a break in this monthly series to update our website: I hope you like the changes we've made. This is one of a series of regular snapshots that highlight many of the things we've been doing to support data science for public good in the Campus. There's more detail on how we're delivering projects, building skills and supporting the data science community on our website. For more information about any area of our work please contact us.
Research
At the end of March, we celebrated the first anniversary of our formal launch with the requisite rainbow cake, of course. During our first year we have completed nine research projects, with five more due to report imminently. There are 11 further projects in progress and 10 in the pipeline. In addition, we mentored 18 data science projects for other teams. Through these projects, we have reached 21 government departments. The potential new projects we are investigating include work on housing conditions and access to services for the Welsh Government and Sustainable Development Goals, support for the ONS trade statistics project and investigation of indicators of loneliness. For more information on our programme of research, please see the project pages on our website.
We have been exploring how to work with academic researchers in data science and earlier this year launched a joint Turing-ONS-HSBC economic data science programme. Awards to academic researchers of up to £150,000 are available through the programme. The Campus is supporting those projects that meet ONS objectives, through secondments and collaborations. Twenty-seven eligible applications were submitted by the 9 April deadline and we are helping to assess these proposals.
Growing skills
Tom Smith and Dave Johnson delivered a Data Science Masterclass at the Alan Turing Institute on 19 March to talk about the use of data science in policy. The session aimed to help students acquire practical insight into how data science can be used to improve decision-making in policy.
We hosted the first data science Masters' Symposium at the Campus, bringing together over a dozen colleagues from ONS, UK government departments and devolved administrations who are undertaking Campus-sponsored MScs in Data Science. Participants presented their research and thesis work, shared experiences of approaches to data science in different universities and discussed data science challenges and opportunities. The Symposium will now become an annual event, with students organising the proceedings on an ongoing basis.
Growing our team
Following a series of recruitment campaigns for data scientists with different levels of experience, we were delighted to welcome several new colleagues to the Campus over the past couple of months, with more joining in early May. You can find out more about our team on the new website pages.
If you are interested in joining our expanding team, we are currently looking to fill three Lecturer posts in Data Science to help us expand our capability-building programmes. The closing date for applications is 20 May 2018.
Data science community and partnerships
Lead Data Scientist Louisa Nolan presented on the research work of the Data Science Campus to the London "Women in Data Science" conference, part of 100 such events worldwide. The Campus also launched a regular series of "Girls into STEM" workshops in partnership with See-Science. STEM Ambassadors Rowena Bailey and Caitlin Johnson from the Campus hosted a visit from Ysgol Bro Myrddin in April when year-8 and year-9 girls saw examples of STEM careers in action. The work of our STEM Ambassadors has been recognised in the ONS Excellence Awards for Equality and Diversity and Building Capability. We're looking forward to attending the Awards ceremony in June.
Chris Bonham and Ioannis Tsalamanis presented our work on understanding and modelling shipping movement to the Government Science and Engineering Profession Regional Conference hosted by our neighbours at the Intellectual Property Office in Newport.
We attended an event hosted by the National Audit Office (NAO), ONS and the Bank of England at the NAO in March. The goal was to bring together analysts and data scientists from both government and industry to find new ways to analyse and understand data about the economy, using a range of public and commercial datasets. Over 50 attendees participated in the "Hackathon" along with two members from the Data Science Campus, who were in the winning team!
We have been developing our links with local universities. We hosted a visit from Bath University to agree a range of initiatives to support PhD activity at their EPSRC Centre for Doctoral Training in Statistical Applied Mathematics. I spoke at the launch of the new MSc in Data Science at the University of South Wales and, with Dave Johnson, delivered a keynote presentation on the Data Science Campus at an Innovation Network event on Data Skills and Analytics at Cardiff University.
International links
As part of an ONS showcase in Newport led by ONS's International Development Branch, around 150 delegates from the Data Development Festival (being held in Bristol and organised by the Global Partnership for Sustainable Development Data visited the Campus on the evening of 21 March. They were provided with an overview of the Campus by the management team and talked to some of our data scientists about their projects. Lead Data Scientist Louisa Nolan attended part of the Festival in Bristol to sit on a panel discussing how to build country-level data science. She drew on her personal experience of working with the National Institute of Statistics of Rwanda (NISR) Colleagues from NISR also visited the Campus in March and one of our Academic Managers, Ceri Regan, spent two weeks at NISR in April to help facilitate their development of a five-year plan for data science capability.
A delegation from the National Institute of Statistics and Geography of Mexico (INEGI), led by Institute President Dr Julio Santaella, also visited the Campus in Newport in March to learn about our work and discuss research projects with the data scientists and apprentices.
And finally
Following our success in the Wales Government Procurement Awards, the ONS team responsible for the great environment we work in progressed to the UK national final in Manchester. We were delighted that the team were highly commended in the Infrastructure Project of the Year category in recognition of all the hard work by all those in ONS and in our contractor organisations to deliver the Campus in Newport last year. We have now opened satellite Campus units in ONS's London and Titchfield offices to accommodate our increasing numbers there.
Next month we will:
publish reports from several of our research projects
be welcoming more new recruits to the Campus
assess applications for our Lecturer positions.
host a visit from the United Arab Emirates' Department of Statistics and Community Development
attend the Big Data for European Statistics conference in Sofia
help to assess the applications to the Turing-ONS-HSBC economic data science programme
attend the AI in Public Services workshop at Cardiff University
volunteer at Global Gardens, Cardiff as part of our corporate social responsibility programme
Look out for our next update in a few weeks' time: we'll be sharing highlights from our latest activities. We've also added a lot more information about our projects, our capability-building programmes and the Campus team on our new website pages. Enjoy.