The highs and lows of juggling university, work and life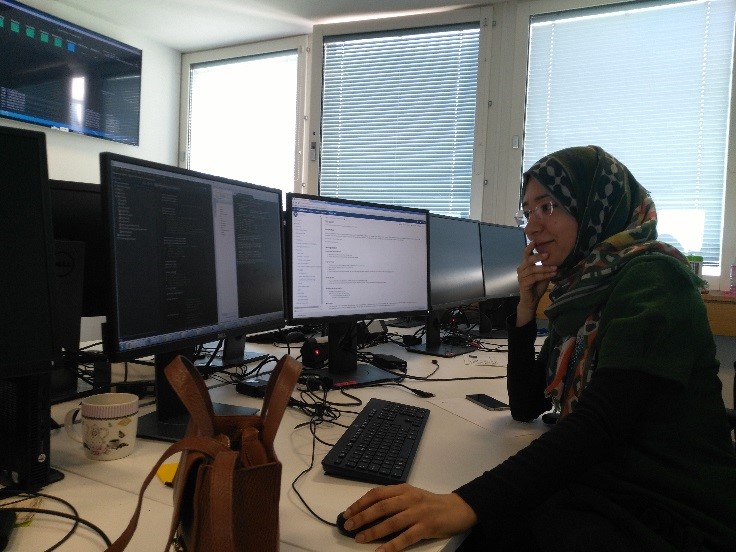 One of our first Campus-funded students shares her experience as a data scientist in the Home Office undertaking the MSc in Data Analytics for Government (MDataGov) programme as the next MSc modules get underway.
How I got to the MDataGov
Hello! My name is Soumaya. I am part of the first cohort to undertake the MSc in Data Analytics for Government at University College London (UCL) and also a data scientist at the Home Office. Today I share with you the highs and lows of juggling university, work and life.
Following my PhD in solid state physics, I worked as a data consultant for a few years before joining the Government Operational Research Service (GORS) in 2015. I wanted to specialise in data science and whilst I had picked up skills in programming and databases along the way, my knowledge felt sketchy and superficial. I knew how to get the job done, but not necessarily in the most performant way. Moreover, I was missing the statistics "ingredient", key to any data scientist. I worked through Coursera's Data Science one-year online programme, which gave me a good enough overview to be accepted as a data scientist at the Home Office. However, I still wanted something more comprehensive, structured and in-depth, and which would enable me to interact with and learn from other people. Hence when the MDataGov opportunity presented itself, I grabbed it with no hesitation.
Why the MDataGov works for me
The UCL programme comprises eight taught modules, four of which are compulsory, and a dissertation. The compulsory modules are Survey Fundamentals, Statistical Programming, Data Science Foundations and Statistics in Government and cover the fundamentals of statistics, designing investigations, analytical programming and policy. To be fair, most of the material comprised in the statistics and programming modules is available in books such as the eponymous ISLR (Introduction to Statistical Learning) and online. However, whilst I enjoy learning, I'm simply not disciplined enough to study the material by myself unless I have an exam, coursework or an interview to study for. And it's easy to become distracted and go "too deep" or "off track" when designing your own syllabus.
As for the other modules, the material is not as readily available externally. I haven't done the Statistics in Government module yet, but my colleague described how it "provided a comprehensive tool-kit of analytical techniques that you are likely to encounter in government and equips you with the means to approach policy problems". This should be very useful if I ever want to and/or land a policy-facing role. The other module I'm eager to start is Applied Bayesian Statistics, a concept which is notoriously difficult to grasp by yourself. And I've heard that the lecturer is inspirational.
I try to take full advantage of the access the MSc grants me to experts, both at UCL and elsewhere. I consult lecturers during lectures, tutorials and office hours. I will be assigned a supervisor for my dissertation project who has experience in the field I am interested in. I intend to use propensity score matching to evaluate the impact of policies at the Home Office. The idea is comparable to the Justice Data Lab at the Ministry of Justice, where the team has already been extremely helpful sharing their methodology. Furthermore, I hope to share and get feedback on my project with other members of the MSc cohort and the Data Science Campus, for example, through the annual MDataGov Symposium, the Campus seminar series and the dedicated MDataGov slack channel.
Lastly, the masters gives me more self-confidence to prioritise my training when discussing timelines with managers and to put myself forward for more senior positions when the opportunity arises.
Making the MDataGov work for you
The masters will last at least two (possibly up to five) years and will cause you large amounts of stress. Here are some suggestions for managing the pressure:
Do a preliminary course before the masters starts otherwise you will be playing catch-up the rest of the time.
Make sure your employer is fully on board. I am deeply indebted to my team at the Home Office for agreeing to complement the sponsorship I have received from the Data Science Campus before I had even started!
Contingent on the previous point; get your department to help shape your dissertation project. More and more government departments are starting to work with academics so it is possible, but will require some time to organise and obtain approval.
Investigate benefits available to students and consider going part-time; I'm on a 0.9 part-time contract and was assigned 10 days study leave per year (in addition to the standard 10 training days). My dissertation project is directly relevant to my department so it will be classified under standard work time. Altogether this means I can take a day off per week to study in term and exam time and still enjoy most of my weekends.
Discuss your work-life obligations with your supervisor and/or lecturers. Issues will arise and universities are usually understanding. I went through personal circumstances earlier this year and UCL was gracious enough to defer one of my exams until August.
Most importantly, be honest about your learning pattern. I look forward to my university day; learning from lecturers, meeting other students and understanding the theory behind the application. Other people would rather study by themselves, have the discipline to set their own agenda at their own pace, or simply prefer learning from real-life projects. However, if you are looking for a systematised academic qualification for developing skills in data analytics and how it relates to policy, I would definitely recommend the MDataGov. For more information about the MDataGov programme please access the Government Statistical Service website.