Data Science Campus visits Rwanda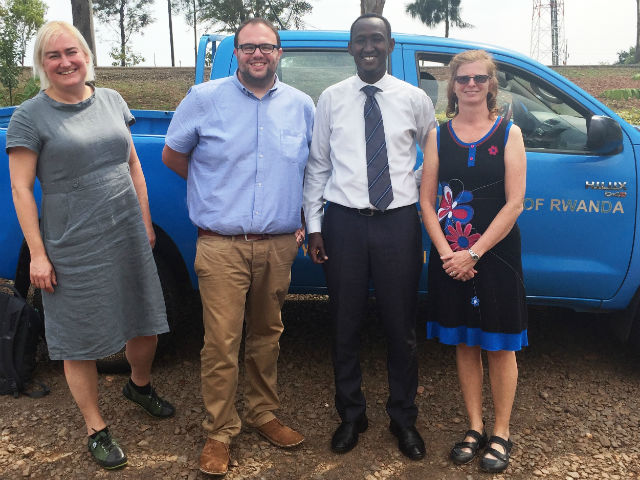 Ceri Regan, Academic Manager at the campus, talks about the recent ONS visit to the National Institute of Statistics in Rwanda.
In early September, I was given the opportunity to join a small team to work with the National Institute of Statistics in Rwanda (NISR) in Kigali. I was joined by the Campus' Senior Data Scientist, Dr Louisa Nolan, and ONS' Strategic Communication lead, Martin Nicholls.
This visit was the final in a series of scoping visits to Rwanda, which had been made possible through an ONS and the Foreign, Commonwealth & Development Office (FCDO) collaboration. This collaboration will see the ONS and the Data Science Campus and developing strategic partnerships in statistical modernisation with several African countries over the next three years. So, it will be opening up some incredibly exciting work opportunities plus some brilliant development opportunities for those who get involved.
During this visit, our team was tasked with confirming the provision of support required for NISR, which involved mainly fleshing out the hows and whats for the delivery of a Data Science Strategy, building data science capability and improving communications. I'll talk mainly about my area of expertise which is building data science capability, and step away from discussing the other bits at the risk of stating inaccuracies and losing the friendship of my two new travelling partners!
Working in a new frontier
Scene-setting aside, I was filled with both excitement and trepidation prior to this trip. I love to travel and experience new cultures and countries – I had previously spent two years living and working in Southern Africa so I had some idea of what to expect, but you can never be too sure. However, after receiving assurances of how safe the country was and how welcoming and enthusiastic the people were, any fears or worries I may have had about the trip were put firmly to bed prior to departure. Which just left excitement!
From day one of the visit to NISR, it was the optimism of the staff, and in fact pretty much everyone we came into contact with, that shone through. I can't stress enough how much of an impact this had on me. But what blew me away the most was this vision of beauty, still under construction, next to the main NISR building…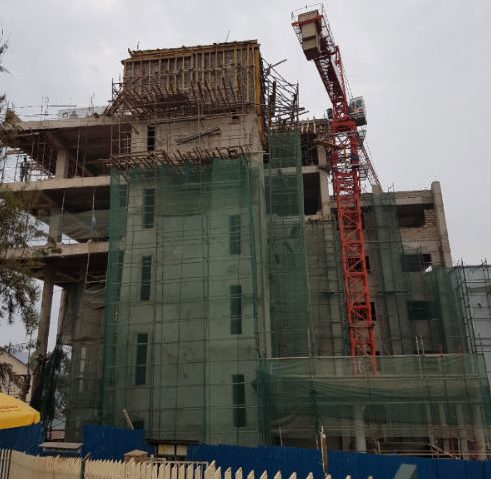 Building for the future (literally!)
For me, this building and all that it will become, symbolises the optimism and ambition of NISR, and Rwanda. The NISR vision to have a that will serve Rwanda and potentially all East African countries was difficult to avoid since it was staring back at me, from whichever north facing window I looked out of at NISR! If it wasn't in view, it was still possible to hear the construction work from anywhere in NISR. Regardless of where you were, you were constantly reminded that the future is coming.
The building, which is being funded by the World Bank, was HUGE, boasting eight floors (three of which were apparently underground). The facilities, when complete, will enable NISR to deliver training on an enormous scale, with eight large training rooms plus an auditorium with the capacity to sit 460 people. The building will also house a Data Science Centre, with the technology to facilitate big data and big data analytics in Rwanda. This hugely ambitious project will see Rwanda (and NISR in particular) leading the data science revolution for the whole of East Africa.
It was hard to not be jealous of this formidable building and the training facilities that it will eventually provide (we need the same in the UK!) hence keeping my green-eyed monster under control was pretty challenging. Jealousy aside, I just loved the fact that this small country in Eastern Africa was just getting on with it with vigour and optimism.
Down to work
As far as I could see, there were two challenges facing NISR on the capability front: firstly, how to build the data science capability of NISR staff and other government departments; and secondly, how to maximise the full potential of the training centre, while generating income. Meetings with the University of Rwanda and Carnegie Mellon University were fruitful. Again, optimism was the flavour of the day with local academics keen and willing to work with NISR and to offer programmes of data science training to upskill analytical staff.
Similarly, consideration of a Data Science Masters course that could run part-time for those in employment was up for discussion. The placement of MSc and/or PhD students at NISR to work in the Data Science Centre on joint projects required little persuasion. What was becoming obvious was that if you could provide a centre for data science innovation with impressive training facilities, then everyone was keen to talk! NISR was in the driving seat and everyone wanted a seat in the car, preferably up front!
Getting involved with this work supports the delivery of one the Data Science Campus' strategic objectives, which is to contribute to the growth of data science work with other NSIs.
What's next?
NISR will be starting a training needs analysis in the run-up to Christmas. Through working with other local organisations, such as the African Institute of Mathematical Sciences and Rwanda Revenues Authority, this work has the potential to establish the learning needs within NISR, the wider National Statistical Service, Rwanda and East Africa. This work will form the foundation for an ambitious training programme that will be worthy of the NISR Training Centre. Whilst the ONS Data Science Campus will continue to advise NISR on their ambitious journey to become the leaders on data science in Africa, their current priority is building their own data science capability.
Through our partnership, we're assisting with the processes that will place an experienced data science capability person on the ground at NISR, working in collaboration with the ONS Data Science Campus over the next year or two. We're all incredibly excited by this development and we'll keep you updated on the work of the partnership agreement.
Would I like to return to NISR? Absolutely…there is the possibility of another visit before Christmas to assist more fully with the development of their training plans. If I were fortunate enough to return to Rwanda, then I would also like to deliver some data science courses for NISR staff, to maximise the impact of the ONS Data Science Campus visits. Although, it's pretty clear to me that NISR staff can teach me more about being optimistic and ambitious than I will ever be able to teach them about data science!