Volunteering at the 2017 Data for Policy conference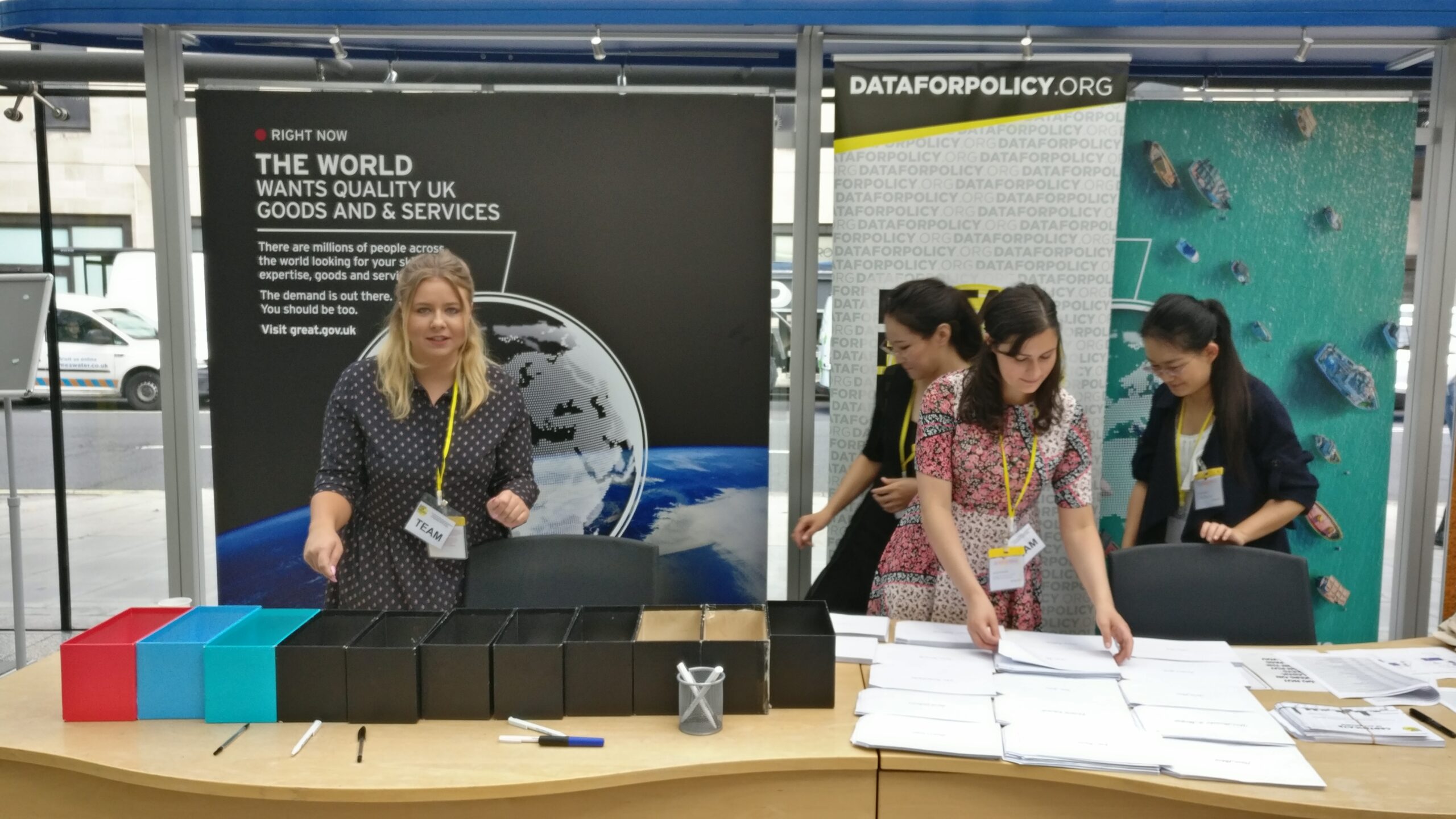 Two of our Data Analytics apprentices, Charlotte O'Brien and Alexis Fernquest, share their experiences as volunteers at the 2017 Data for Policy conference.
Data for policy uniquely brings together data experts and policy makers across the public sector, industry and academia to debate and exchange ideas about data-driven governance at a global level.
Under the Government Data Science Partnership, ONS supported this year's event as it aligns with our strategic aim to provide valuable data and a firm evidence base for decision-making both inside and outside of government.
Charlotte
Alexis and I are Data Analytics apprentices at ONS and earlier in the month we were fortunate enough to be able to help out and attend the third annual Data for Policy conference. With the increasing role of data and algorithms in policymaking, leading data experts and international policy makers met to debate and exchange ideas about data-driven government in a two-day international conference at Westminster Conference Centre (1VS), in London.
This year's conference highlighted "Government by Algorithm?" as its main theme – hosting a number of presentations on data-driven government and algorithmic decision-making with wide-ranging implications for issues from health and crime prevention, to crisis management and childcare.
We got there the day before the conference to meet the other volunteers and help out with preparing information packs ready for the attendees.
The next day we were there bright and early ready to set up for registration. We quickly got into the flow of it and managed to make the system more streamlined by the second day by taking out a few of the processes – the data analysts in us couldn't resist making the process quicker and leaner!
Once most of the guests had arrived, we moved downstairs to get involved in the various talks. As a volunteer for the conference, we were responsible for the rooms that we were assigned to, ensuring speakers had microphones if needed, presentations were loaded correctly and promoting the talk to the wider community via social media.
There were numerous sessions covering a wealth of topics all looking at using data science tools to make data more useful and beneficial to the public.
I found the session on "Clean data for cleaner air?" by Roel Heijlen from the KU Leuven Public Governance Institute particularly interesting.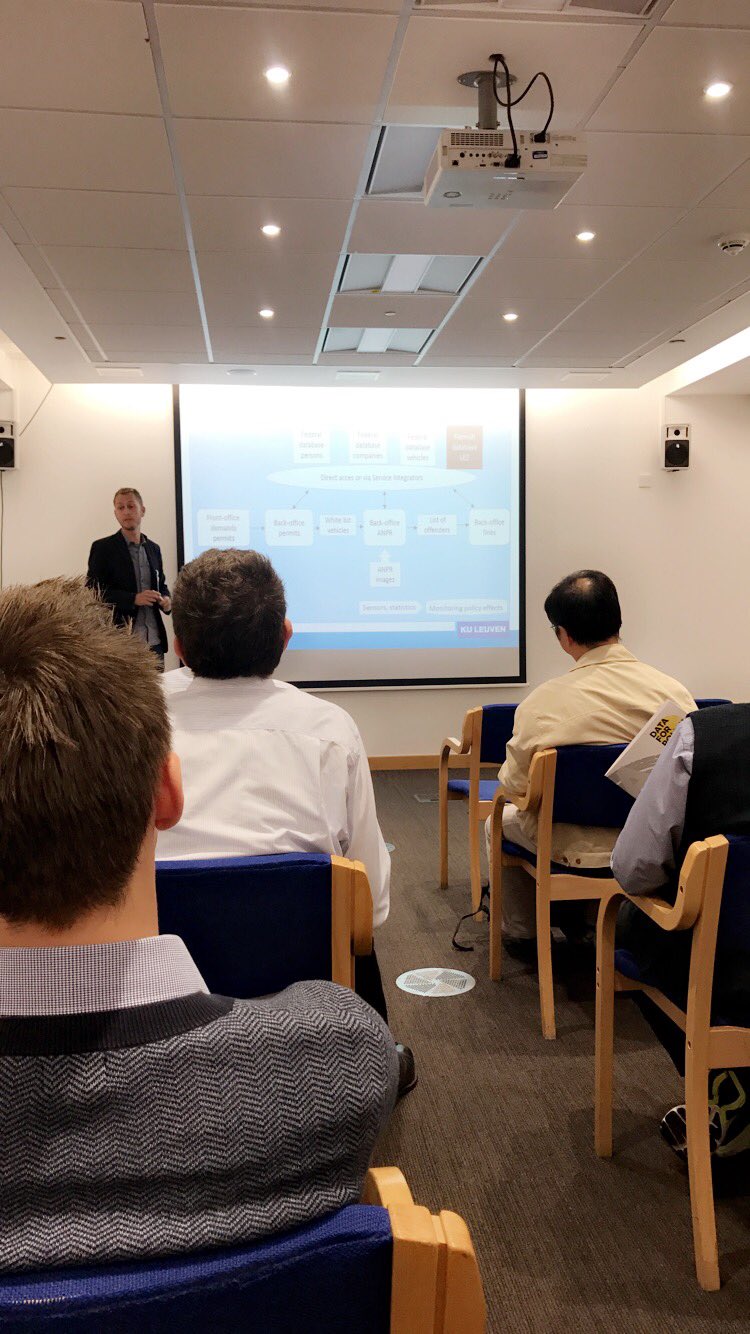 He talked about how the recent introduction of a low-emission zone and enlarged car-free zones in three Belgian cities has led to the development of information systems processing data about vehicles, persons, companies and policy impact effects. The collection, analysis and use of these data brought up certain problems that needed to be solved. Roel explained that his research results help to explore some focus areas for a future data governance model in the public sector.
Alexis
I personally found Shivangi Narayan's session on crime statistics incredibly fascinating! It was all about how they track crime statistics in India and the challenges they face. It was truly interesting to see the barriers they are up against as they use paper and a pen for all data collection and this is then passed on to office workers to input this data, which can be quite messy and unorganised. A PhD student from Harvard, Alexandra Ciomek, also showed a clustering technique she had been developing to look at the relationships between gangs in Boston and to see if there was any collusion between them.
There were lots of thought-provoking and sometimes heated debates with many of the conversations shared on social media.
Day one concluded with a networking event where we had the chance to speak to the delegates and presenters about their work and interest in the topics. This gave us the opportunity to catch up with the Data for Policy founder Dr Zeynep Engin about how Data for Policy has evolved. She established the annual Data for Policy conference in 2015 which was a lot smaller and the speakers were also the attendees! Since then the conference has grown considerably, attracting over 200 people and proven to be an important international forum around the theory and applications of data science for governments and policy research.
On day two, ONS had the chance to showcase its work with presentations from Data Science Campus, Big Data Team and Public Policy in a session chaired by Emma Rourke (Director of Public Policy Analysis at ONS).
Our Data Science colleague Alex Noyvirt opened the session with his FinBins project (a collaboration between ONS and the Bank of England) which aims to improve the quality, coverage and granularity of the UK's financial statistics. Effectively how can we answer the £7.4 trillion question.
This was followed with a presentation by Owen Abbott from the Big Data Team on our work to develop web-scraping guidance to ensure that we are consistent and ethical in the way we use this tool. We are in the process of publishing and publicising this guidance so that our web-scraping practices are open and transparent, and it will form one of the main pieces of data science "infrastructure" for ONS.
We finished with a presentation that showed how ONS is exploring the use of alternative data sources. It outlined two case studies that have explored using property data available on websites such as Zoopla for producing better statistics to inform policy. The first case study was about house rental pricing, and the second aimed to improve the address lists underpinning the 2021 Census.
The session proved to be extremely popular with people having to stand to listen to how we are using data science tools and techniques to make better use of our data and improve decision-making.
What did we learn?
Alexis
I have a new appreciation for volunteers at events! It was a very tiring and rewarding experience, and a great opportunity to network and meet new people. I was surprised and amazed by the fantastic and diverse amount of work that is going on across the globe.
Charlotte
Data for Policy really opened my eyes to work being done both in the public and private sector that will really have a big impact on public well-being. The range of datasets being used really struck me, as well as the unusual and innovative services that are being developed. I would thoroughly recommend the conference to anyone, especially those with an interest in data science.
You can learn more about our work in the Data Science Campus by taking a look at our projects.