Building data science futures one bite at a time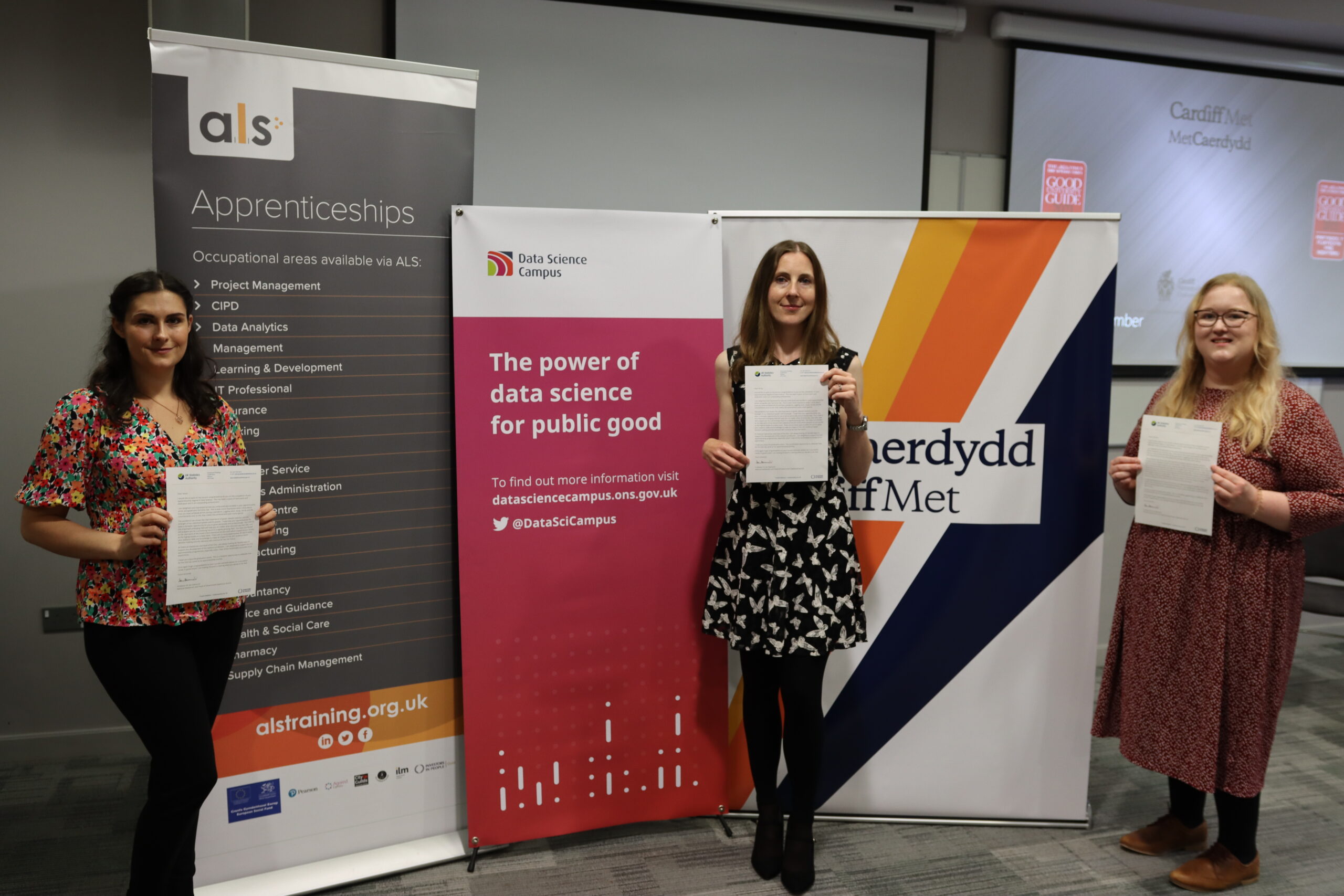 The Degree Data Science Apprenticeship is a pioneering programme, focusing on developing sought-after data science skills in the workplace. The programme has been designed with industry partners to directly address data science skills gaps across sectors, providing real-time benefits to employers.
The achievements of our apprentices so far
Over the past three years, we have recruited eight level 6 data science apprentices and 12 level 4 data analyst apprentices into the Data Science Campus. More recently we have also welcomed two business administration apprentices, who are enabling teams across the Campus to deliver on their priorities with their enthusiasm and can-do approach.
The apprentices have diverse career experiences and educational backgrounds. Some are school leavers who wanted to combine practical, on-the-job learning with academic study and earn a salary while studying for a degree. Others previously worked in different fields and were looking to upskill or change career paths.
By bringing data science apprentices into the Campus, we looked beyond traditional hiring routes to embrace diversity. Our apprentices have brought fresh perspectives to invigorate our teams. They are a great example of how non-traditional routes can unlock fantastic long-term career options in data science and bring new talent to the organisation.
The apprentices have gone from strength to strength over the past three years, taking on roles across the organisation, securing promotions and promoting the value of data science.
In the last few months, the first level 6 degree apprentices have successfully completed their degree at Cardiff Metropolitan University. Their achievements were recognised at a celebration event, where the apprentices spoke with pride and passion about how the apprenticeship had transformed their career prospects. Their employers, including the Office for National Statistics (ONS), Welsh Government and Qualifications Wales have also benefitted from the skills and ideas that the apprentices have brought to the table.
We are genuinely passionate about recognising potential and are determined to give our apprentices the best possible start to their data science careers.
The next generation of apprentices
So how can we grow and develop the next generation of data science apprentices that can build the future? It is an area that we are highly passionate about as we believe inspiring future generations to engage in STEM subjects is not only crucial for a young person's educational development, but for the future of UK industries.
It is vital to give young people the tools and information they need to make informed decisions about their future career opportunities, and to help ensure that they understand how important STEM is in our daily lives.
We now have apprentices who can use their passion and experiences to inspire young people and be role models for the next generation of data scientists. During the coronavirus (COVID-19) pandemic, it has been difficult at times to think of ways to engage with the younger generation, especially from a remote working environment where school visits are not possible.
Bitesize data science workshops
In 2020 and 2021, when schools were delivering their lessons on-line and parents were home-schooling it was a very difficult time for many. So, during National Apprenticeship Week 2021, we wanted to help ONS staff by giving them some time back while we taught their children some data science.
Our four apprentices developed and delivered a range of bitesize data science workshops for those aged 5 to 18 years. We were oversubscribed for the live workshops and received overwhelmingly good feedback.
Today we are delighted to release these sessions as a series, available to stream at any time.
To see more the series visit the Bitesize page
If you or your children benefit from these sessions, please share them with your schools, or other organisations that are helping to train and encourage young people through STEM subjects.
Our apprentices are continuing to make a difference at the Campus, the ONS and beyond. This National Apprenticeship Week, we hope you experience their passion and desire to use data science for the public good, as they teach the next generation and build the future.