Case studies from Graduate Data Scientists

Adela Ilescu (2021)
Graduate Data Scientist, Office for National Statistics (ONS) Data Science Campus
'I was already considering a career change and moving towards data science, and when I found out about this programme, I looked in details a bit about the modules and everything, and it seemed like a great entry point for my new career change.
Before entering the programme, most of my experience was data science coding more generally and technical skill was self-taught in a way, and I was looking forward to expand my technical abilities
to fill in some gaps to learn Python and some tools for working with big.
For me, particularly, I think the fact that the programme is remotely has not brought any downsides for me, it was a very positive experience, I didn't find any negatives.
I can say I've learnt a lot and I'm generally a better coder and I'm
looking forward to the next modules.
And I've been very, very impressed by the fact that if you have some coding experience, if you've had previous experience, that's great, that can help you. However, it's not necessary.'
---
Lilly Taylor (2021)
Data Scientist – HM Treasury
'So the biggest thing for me was that there was such a big focus on training, often when you were in a role that's busy, it's really hard to make time for this.
There are also lots of knowledgeable people to learn from, delivering the lectures, I really wanted to upskill myself in data science, and it was just a really good opportunity to do that.
So I didn't come from a traditional data science background, but I found that that hasn't been a problem, the course has been here to get you up to speed in the areas that you need to make a career in data science. So that's been fantastic.
So it's presented a real organisational change for us. We're hoping that as time goes on, we can sort of be ambassadors for data science within our organisation
The biggest thing I would say is just don't worry if you don't have the traditional background for a data scientist, if you haven't done a degree in computer science or maths. Don't worry if you're enthusiastic, I really think that's the main thing.'
---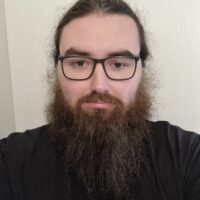 Tom Wise (2021)
Data Scientist Graduate
'The opportunity to learn a second language python was incredibly wonderful, was incredibly insightful, I was able to do this not just alongside a individual team such as mine in the ONS, but also alongside other graduates across government departments, but also other organisations.
My first impression so far of the programme have been incredible. Not only is the ONS and the Data Science Campus incredibly inclusive to everyone, whether you have a mental health condition , a learning difficulty or physical disability. whether a true beginner or a semi or someone with some experience, it really allows you to achieve what you need to achieve.
Since the beginning of the programme, I've seen a huge development in certain areas and skills not only just for organisations, but the way in which I conduct myself. I found that not beyond the obvious impact of improving my Python programming, as well as implementing best practise on how I programme.
The advice to anyone considering applying for the graduate data science programme is to apply. It doesn't matter whether you come from a background like mine, which includes or has a lot of training in methodology and statistics. There is always more to learn or even if it's from a low statistics background and you are just interested in making sure that the world becomes more data literate place.'
---

Arif Ali (2020)
Graduate Data Scientist, Office for National Statistics (ONS), Data Science Campus
'I came to the scheme with a degree in Geography (Geocomputation and Spatial Analysis) with geospatial analysis skills in Python and experience in using GIS software.
As a naturally curious person, the sheer breadth of projects within the Civil Service excited me as I knew I would be able to interact with different data science domains. As someone beginning their career, the graduate programme's focus on learning and personal development also attracted me.
I worked on a COVID-19 project exploring a hotspots risk model and also analysed case studies for the Data Science Campus faculty to provide input into the machine learning course they developed.
I have become a more confident programmer through the graduate programme, and I have learnt a lot from the programme lecturers and the people I've worked with. This has helped me to develop my data science skills in new domains, such as machine learning, at pace. The programme has been a great investment in my future data science career.'
---

Rowan Hemsi (2019)
Graduate Data Scientist, Office for National Statistics (ONS)
'The graduate programme appealed to me because I wanted the opportunity to experience a variety of different data science projects within the public sector.
I had completed an undergraduate degree (BSc) in Mathematics at Durham University, and a Master's (MSc) in Data Science and Analytics at Cardiff University and came into the programme with a good foundation in statistics and data visualisation, as well as basic Python and R programming skills.
The programme gave me confidence and built on the practical skills needed for a data science project. I helped build the Office for National Statistics's (ONS) capability in distributed data processing and analysis and used text analysis to automate occupation and industry classification for the Census.
I also had a fantastic opportunity to go on a secondment to 10 Downing Street to work on visualising and communicating data and statistics for senior politicians and advisors.
I was also promoted to a Data Scientist role in the Government Statistical Service's Good Practice Team.'