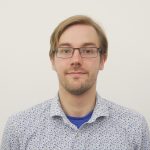 Data Science Apprentice
Stuart joined the Campus in March 2019 as one of the first Data Science Degree Apprentices. Before joining the Campus, he worked for several years at HM Revenue & Customs.
He holds a BSc in Mathematics from the University of Exeter and is looking forward to applying some of the skills acquired during his studies.
Outside of work Stuart enjoys playing Ultimate Frisbee, a fast-paced, non-contact team sport. Ultimate is a self-officiated sport – relying on players to play within the 'spirit of the game' and enforce the rules of the game themselves.