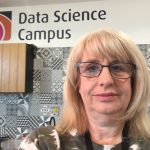 Head of Planning and Resources
Sheila joined the Campus in August 2020 from FPP Commercial, where she was one of the Heads of Commercial for 4 years. She has been involved with the Campus since it started, helping establish some of the Memorandums of Understanding (MoU) and commercial arrangements, which have supported the Campus work.
Sheila lives in Newport with her husband and three cats. She has two adult daughters, who have flown the nest to work in Swindon and go to university at Bath Spa. She enjoys reading and travelling, both within the UK and abroad, her favourite being Madeira.