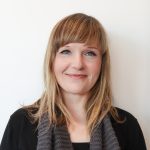 Programme Officer
Rebecca joined the Data Science Campus in January 2020 as International Programme Officer within the Knowledge Exchange Team. Prior to that, she worked at Cardiff University as Intervention Development Coordinator at the National Centre for Mental Health, where she developed and managed psychoeducation programmes and patient and public involvement in research.
Her career history includes the Foreign & Commonwealth Office's migrated archives project and Swansea University's School of Medicine, where she piloted a study exploring the acceptability and impact of mindfulness programmes for children.
Rebecca has lived and worked in a variety of settings, including China University of Geosciences Beijing and the British Councils in Sri Lanka and Hong Kong. She holds a BA in English & Social Studies, a PGCE from Cardiff University, and an MAin ELT & Applied Linguistics from King's College London. When not working, she can be found walking, writing, and planning worldwide wanders.