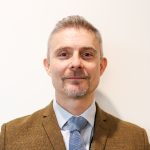 Head of Data Science Capability
Paul joined the Campus in February 2020. He has twenty years' experience in Learning and Development and Human Resource practice. He holds an MSc in Human Resources Management and is an Associate of the Chartered Institute of Professional Development. Paul has worked in the Civil Service since 2017, when he joined ONS to build the Learning Academy. From then he has moved to a role creating the organisational Talent and Careers function before joining Data Science Campus.
He has a public service career lasting over thirty years and has developed award-winning leadership development programmes and apprenticeship schemes for vulnerable young people. Paul has worked in a number of roles in Local Government, and is particularly interested in capability, inclusion and developing social mobility.
Paul was the chair of the first Isle of Wight Pride working group and has volunteered for the RSPCA and Shaw Trust. He is a qualified Business Coach and Gym Instructor.