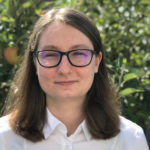 Senior Data Scientist
Michaela joined the Data Science Campus in August 2022 as a Senior Data Scientist in the Synthetic Data and Privacy Enhancing Technologies squad. Prior to joining the ONS, she worked at Dstl (Defence Science and Technology Laboratory). Where she developed tools to automate aspects of horizon scanning for defence. Whilst at Dstl she also developed deep reinforcement learning models to play games.
Michaela has a background in theoretical physics and received her PhD from the University of Sussex. Her studies focussed on theoretical tests of different models of gravity and cosmology.
Outside of work, Michaela enjoys walking her dog, crochet and music.