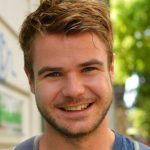 Data Scientist
Michael is a data scientist, having joined the campus in May 2018.
Michael has a PhD in Earth Sciences from Cardiff University and has experience in using satellite imagery and building probabilistic models for assessing natural hazards. In particular, he collaborated with the Malawian Government to improve their knowledge and understanding of large, infrequent earthquakes.
During this time he was also involved with many STEM related workshops. Before his PhD, Michael worked for several years at Natural Resources Wales, where he delivered a EU funded sustainable land management scheme. His current ambitions within the campus are to utilize his satellite imagery experience in a number of research projects.