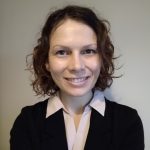 Data Science Apprentice
Mia is a Data Science Apprentice who joined the Campus in October 2020, at the start of her second year of the Degree Apprenticeship programme.
She is a science graduate and former science communicator and entrepreneur with years of experience presenting and developing scientific shows for children and creating engaging educational products. She joined the apprenticeship because entering the field of data science presented an opportunity to develop her analytical and coding skills, while putting her communication skills to good use.
In her free time, Mia is an avid player and Dungeon Master in the world of Dungeons and Dragons.