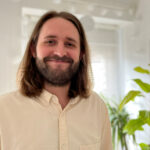 Data Scientist
Henry joined the Data Science Campus in May 2022 and works in the Synthetic Data and Privacy Enhancing Technologies team. Prior to joining the ONS, he worked at Cardiff University in the Welsh Wastewater Surveillance Programme, where he developed models and software infrastructure to help monitor the spread of COVID-19 in Wales.
Henry has a background in mathematics and received his PhD from Cardiff University in operational research applied to healthcare. His research interests include game theory, algorithm evaluation and research software development.
Outside of work, Henry enjoys reading, tinkering with his bike, and (most of all) cooking.