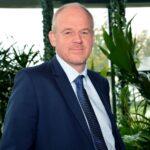 Technical International Programme Lead and Synthetic Data & Privacy Preservation Techniques Squad Lead
As Technical International Programme Lead, Eric engages with other National Statistical Organisations (NSOs) and international bodies. This is to exchange new data science methods (e.g., machine learning) and implement architecture principles with the objective to move from producing exploration statistics to official statistics.
Eric is a dynamic and highly skilled Solution Owner skilled in achieving business and customer objectives. An excellent communicator with international and multi-cultural work experience across Europe, the Americas and Africa. Eric has presented and lectured across the United Kingdom, Norway, Netherlands, Switzerland, United States and Canada. Eric is a notable Project Manager with global delivery experience and is an associate lecturer at Cardiff Metropolitan University Business School.
Eric is currently programme manager of Iris 11 development for implementation of ICD 11 (International Classification of Diseases) in partnership with World Health Organization. Eric was also instrumental in setting up the ML2021 programme, now a key deliverable under his remit. Eric has recently been invited to sit at the UN Advisory Group of the Regional Hub for Big Data in Brazil.