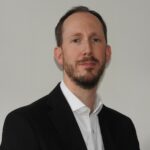 Data Scientist
Edward Jackson joined the Data Campus in October 2021.
Having been a primary teacher for nearly 20 years – including 5 years as a Head Teacher – he took the opportunity to have a second career working for 'public good' from a different angle. A foray into online learning reignited his childhood interest in coding (originally on the BBC Microcomputer in the 1980s).
He studied a diploma in Data Science on an intensive program with BrainStation before being asked to stay on for a semester as part of the Education Team there. He especially enjoys machine learning and data analytics.
When not in front of a computer, he enjoys playing (lots of) tennis, reading and walking the dog.