Data Science Campus hits the world stage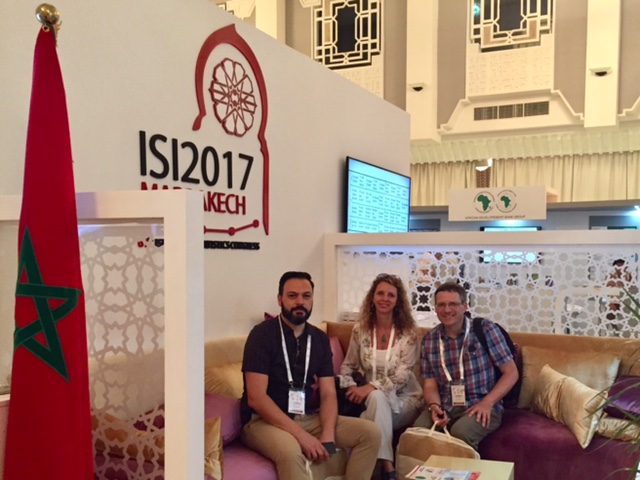 The Data Science Campus at ONS in Newport had barely celebrated its first 100 days when a few of the team headed to Morocco for the biggest statistics conference in the world.
Our aim was to build collaboration with international partners and support the data science community, so it was great to showcase the work of ONS's Data Science Campus in terms of our research and capability work, as well as to learn from other countries' experience of applying data science approaches to public policy issues.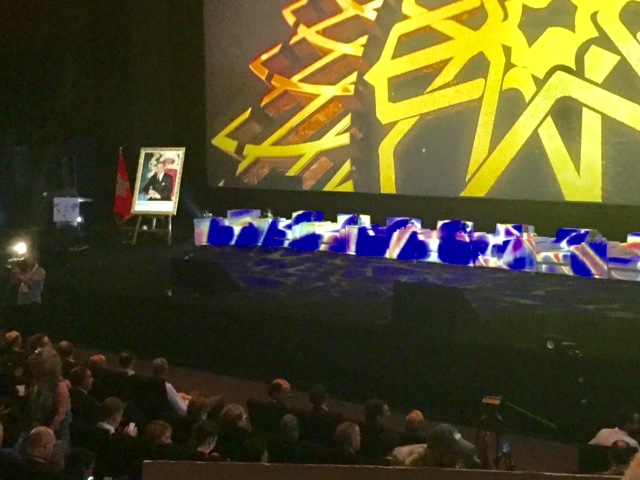 Organised by the International Statistical Institute (ISI), the World Statistics Congress dates back to 1885 and was meeting for the 61st time – a pretty impressive record.
Nearly 2,000 people from every continent took part in Congress, which was held in a large conference venue and neighbouring hotels in Marrakech. Thankfully all rooms were air-conditioned temperatures at the start of the week soared above 46 degrees Celsius – hot, even by Moroccan standards. Outdoor exposure time of 5 minutes was pretty much the daily ration for this pale Englishman. I can feel the waves of sympathy… By the time things had cooled down to the mid-30s, it all felt rather pleasant.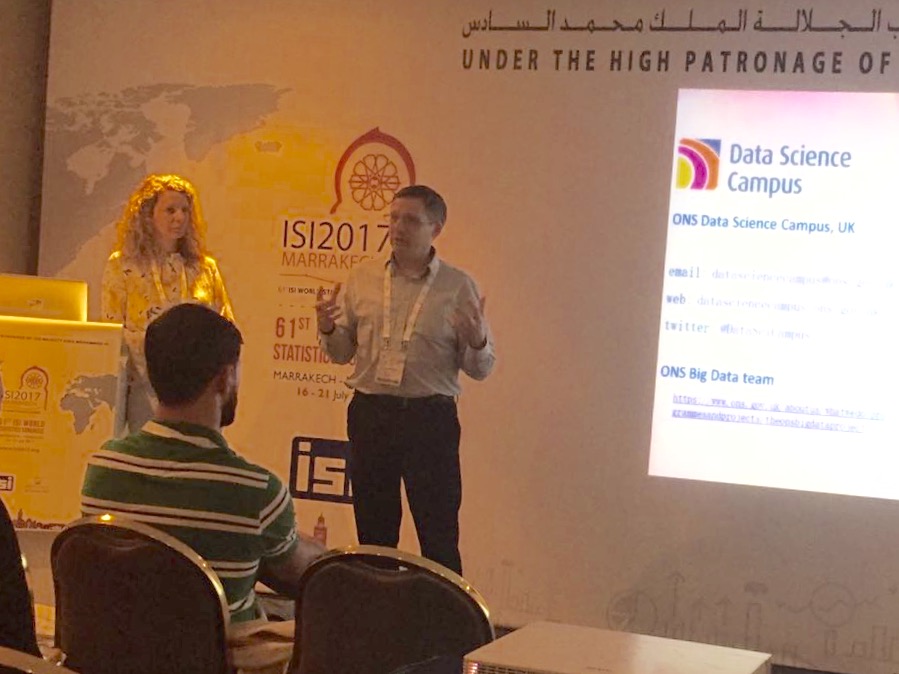 Academic Partnership Manager Solange Correa-Onel and I presented an overview of the work of the Campus, while one of our Data Scientists Ioannis Tsalamanis demonstrated the digital tool that the Campus had developed for Sustainable Development Goals; a talk accompanied by a poster that interested many of the developing countries represented in Marrakech.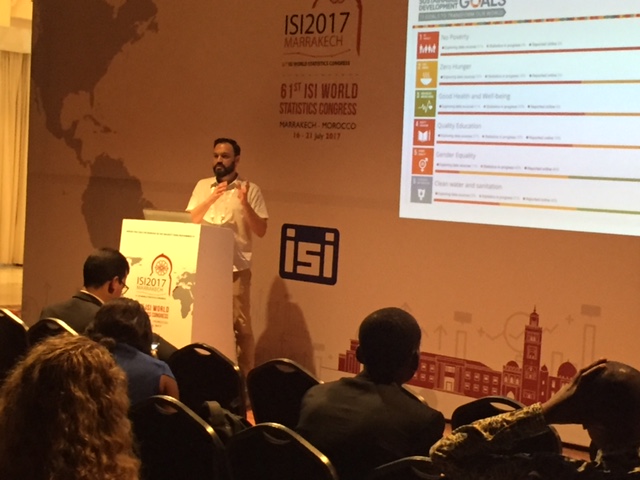 As the conference progressed, word of the UK's initiatives in data science was spreading. By the final evening, I had the opportunity to discuss what we are doing with both the outgoing and the incoming Presidents of the ISI and Ioannis chatted to Hadley Wickham from RStudio, an influential figure in the world of data science.
As well as meeting some of our existing partners at the Congress – namely Statistics Netherlands and Lancaster University – we also took the opportunity to initiate potential new collaborations, including Statistics Norway who will visit us in Newport later this year.
My first taste, as an undergraduate, of applied statistics involved counting cars on a Liverpool street to fit a Poisson distribution. At the Congress, I was hearing about data being received automatically from traffic sensors covering road networks spanning tens of thousands of miles. In another presentation, they were still fitting Poisson distributions, but now to vast quantities of data on website updates. The range of research on display was truly impressive – and great for my own Continuous Professional Development (CPD) in understanding what the clever folk in the Campus are doing, and what the possibilities might be. My personal favourite has to be hunting jaguars in the Peruvian Amazon using 360 cameras and virtual reality. Now that's what I call a data science project!
Data science proved to be a controversial topic that dominated much of the Congress. In the opening exchanges it was suggested that it was all Applied Statistics, just updated. After my presentation, I was challenged about us hiring "data scientists" and not "statisticians". "Why do we need this new science?" ISI President Pedro Silva asked Hadley Wickham – To be useful, came the reply, to a mixed reception from the hall. This fusion of statistical and computational science brings potential pitfalls, but time and again I saw eminent, world-class statisticians demonstrating their application of robust statistical methods to Big Data in new ways, to derive insights that would not have been possible just a few years ago.
Big Data ethics was also a hot topic: one panel considered whether there were new ethical issues, or were we dealing with the same issues in a new context? The debate continues to the next Congress in Kuala Lumpur in 2 years' time.
As well as the Data Science Campus team, ONS was a prominent presence at the Congress, with presenters from the Big Data Team, Methods, Digital Services and Technology, Public Policy, Census and the Policy Secretariat. I was particularly pleased to see Hannah Thomas from Digital Publishing (currently at Welsh Government) give an invited presentation "The Dissemination Game" and entertain the audience at one of the final sessions at the Congress. This was in recognition of her winning first prize in the International Association for Official Statistics' young statistician competition that attracted entrants from all over the world.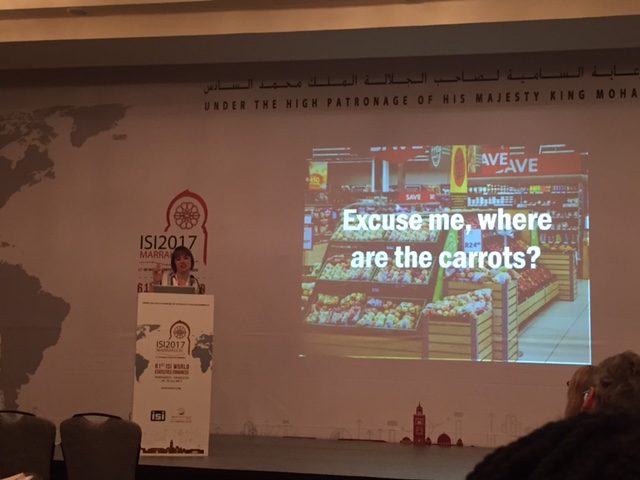 Special mention too goes to Duncan Elliot from the ONS Methods, Data and Research team – undeterred by a power cut in the middle of his presentation to the main conference hall, ploughing on in the darkness like a true professional – minimalist data visualisation at its finest.
Overall, it was a hot but very fruitful experience, enabling us to develop new partnerships and raise our profile among an international audience – a step closer to our aim of becoming a world leader in data science.
Please get in touch if you are interested in collaborating with us on a project or to find out more about us and what we do. Visit or follow us on Twitter: @DataSciCampus.