Government Data Science Festival 2022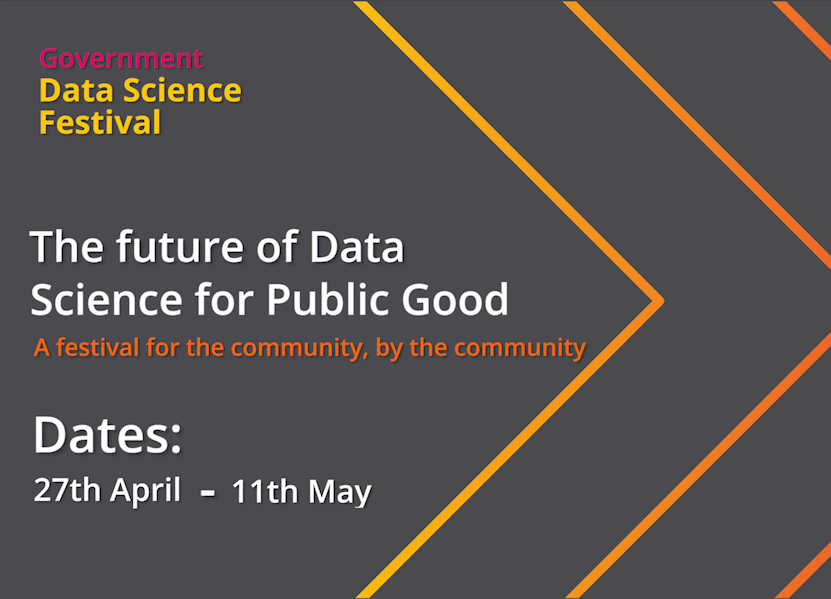 Last updated: 13 May 2022
The Government Data Science Festival 2022 was a space for the government and UK public sector data science community, and colleagues in the academic sector, to come together to learn, discover, share and connect. The Festival took place online from 27 April to 11 May 2022.
Theme
In 2022, we considered 'The Future of Data Science for Public Good' and explored the core themes of:
Foundations for the Future
How we do data science, from cutting edge methods, tools and techniques, building data science in organisations, projects and pipelines, the challenge of operationalising, and more…
Future Impact
The issues, challenges and questions that will impact society; how we evaluate and measure the impact of our work; ethical considerations in data science.
Your Future
Developing your skills and career in data science.
Updates
Resources
We are preparing to make videos of the Keynote sessions and presentation slides available as we receive them from speakers.
These will be available within the next couple of weeks on Knowledge Hub, and shared with all delegates who registered for the Festival.
To access the resources, go to Knowledge Hub, create an account using your public sector email address, and join the "Government Data Science Festival" group.
ManiFESTo
During the Festival, we have had lively discussion and debate around a wide range of issues that matter to the data science community. We are seeking your input to make sure this dialogue continues so we can deliver a programme of activity that enables ongoing exchange on the issues that matter to you.
The ManiFESTo is our commitment to ensure we continue to support your development and the growth of UK public sector data science capability beyond the Festival.
Read the ManiFESTo now, and have your say.
Stay connected
For updates on Festival resources and future data science community activities:
The Festival is brought to you by the Office for National Statistics Data Science Campus, on behalf of the Government Data Science Partnership.
The data science community includes data scientists, analysts and a range of professions who enable the delivery of data science in UK government and the public sector.