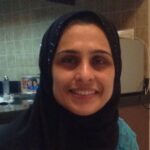 Data Science Lecturer
Saliha joined the Campus in 2019. She has worked on several projects including the development of a semantic search engine, testing out proxies for economic activity, social media monitoring with respect to mis/dis information on COVID-19 as well as tracking profanities during election cycles. She has also had a key role in course design and instruction in the natural language processing space.
Saliha has five degrees including an MBA, PGDE and a PhD. She has held key roles as an Analyst, Programmer and Trainer in organisations such as the NHS, Glaxo and Volvo, in addition to teaching roles at universities Glasgow and Stirling.
Saliha enjoys walking on the Scottish hills and playing tennis.