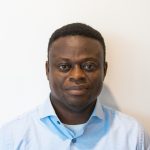 Senior Data Scientist
Rueben joined the Data Science Campus in February 2020 as a Senior Data Scientist (International Development). Prior to joining the Campus, Rueben worked on a research project with the United Nations and Dalarna University in Sweden to develop a data-driven decision support system, which serves as a monitoring mechanism to aid decision-makers at the United Nations, formulate policies and strategise against the risk of failure of the Sustainable Development Goal on Food Security.
Rueben graduated with a PhD in Microdata Analysis at Dalarna University in Sweden and has worked with International organisations such as the German International Corporation (GIZ), United Nations and Ericsson.