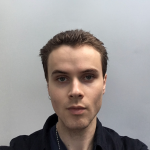 Graduate Data Scientist
Ruben joined the Campus in October 2020 as part of the Graduate Data Science programme. His academic background is in ecology and conservation, with R-based data science experience in insect biodiversity research at University College London and crop biodiversity research at Royal Botanic Gardens, Kew.
At the Campus, Rube is keen to develop his capacities in geospatial analysis and machine learning in Phython through statistical projects focusing on public health, trade and agricultural sustainability.
Outside of work, Ruben is an illustration and graphic design nerd!