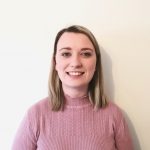 Project Co-ordinator (International Development)
Rachael joined the ONS-FCDO Data Science Hub in September 2019, having previously worked at Scottish Forestry in the Central Scotland Conservancy office as an Administration Officer for 2 years.
She graduated with a BA Honours in French and Spanish at Strathclyde University in 2012. Rachael enjoys spending time with her family and friends, as well as doing creative activities in her spare time; she did a beginner's calligraphy class earlier this year to personalise her wedding table place cards.