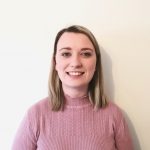 Business Delivery Support
Rachael joined the AI for International Development Hub at the Data Science Campus in September 2019, having previously worked at Scottish Forestry in the Central Scotland Conservancy office as an Administration Officer for 2 years.
She graduated with a BA Honours in French and Spanish at Strathclyde University in 2012. Rachael enjoys spending time with her family and friends, as well as doing creative activities in her spare time; she did a beginner's calligraphy class earlier this year to personalise her wedding table place cards.