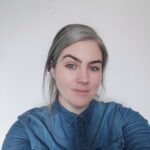 Data Scientist
Nicci joined the Campus as a Data Scientist in the Foreign, Commonwealth & Development Office (FCDO) hub in January 2022.
She previously worked at sportscotland, using social data to reduce inequalities in sport. Prior to this she did a PhD and a post-doctorate in Planetary Science, focused on Moon formation and evolution. During this time she also worked with national space agencies to scope out potential robotic missions to the lunar farside. She has experience integrating dashboards into public sector processes, remote sensing of planets (Earth, Moon, and Mars), and modelling with both scientific and social data sets.
Nicci really enjoys supporting others in their data journey and using novel data sets to provide new insights into international challenges.
Outside of work, she enjoys running, weightlifting, and spending time in the rain with her dog.