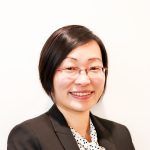 Senior Data Scientist
Li joined the Data Science Campus as a Senior Data Scientist in January 2020. She is an experienced senior researcher/engineer working in both academia and industry. Li holds a PhD in the area of image processing and pattern recognition from the University of Surrey. She joined the University College London as a research fellow working on the EU-sponsored Network of Excellence project "MUSCLE" focusing on video copy detection.
Li has strong engineering professional skills in machine learning, computer vision, statistical modelling and video compression. Before joining ONS, she spent 3 years at Autonomy in Cambridge leading a small team working on document imaging processing and video surveillance. She also worked as senior engineer with Ericsson TV Ltd for 10 years, applying advanced technologies from computer vision and machine learning to prototype and improving products of video codecs including H.264, HEVC and content-adaptive encoding.