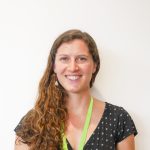 Data Science Lecturer
Laurie joined the Data Science Campus in September 2019 from the University of Glasgow, where she gained a PhD in Epidemiology and worked on a wide range of data sets including Chilean fishing records, grey seal GPS movement tracks, and fox rabies cases.
As a PhD student and Medical Research Council (MRC) Transition Fellow she used Bayesian state-space and point process modelling approaches to understand spatial and temporal patterns in rabies transmission and the control of the disease through vaccination.
Laurie is interested in spatial modelling, data visualisation, image processing and text analysis. Outside of work she enjoys sailing, hiking, and improving her Spanish, Portuguese, and Italian.