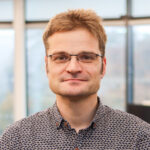 Data Science Lecturer
Jeroen joined the Campus and the FCDO/Hub team as a Data Science Lecturer in October 2021. He works across the wider Campus and ONS teams to support and develop training and capacity building in data science, with a current particular focus on international partner organisations.
Before joining the Campus, Jeroen has worked in a range of postdoctoral positions at the University of Stirling, St Andrews and Newcastle. He has a background in quantitative ecology, modelling and conservation biology, with recent work including the modelling of socio-ecological systems in conservation conflicts. Throughout his career he has played an active role in supporting the development of coding and analytical skills for colleagues and students, and he is passionate about promoting data literacy in decision-making, particularly in relation to the Sustainable Development Goals.