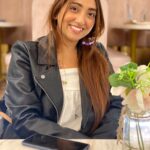 Lead Analyst
Himanshi has worked at the ONS for just over six years in several teams across the Economic, Social and Environment Group. For the past two years she has been leading the financial transactions card payments team to provide real-time insights and situational awareness on key policy decisions across government.
The majority of her work continues to be in the real-time space to deliver more high value and impactful analysis for ONS and wider government. Prior to joining ONS, Himanshi worked for Network Rail as an Assistant Project Manager on Infrastructure projects.
She studied Business Economics from University of Westminster and has an MSc in Development Economics from the London School of Economics.