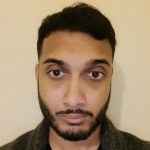 Graduate Data Scientist
Arif joined the Data Science Campus in October 2020 as part of the Graduate Data Science programme. He graduated from King's College London with a BA in Geography (Geocomputation and Spatial Analysis), where he developed his skills in Python programming.
In his degree, he completed a dissertation on the spread of commercial gentrification in London, where he independently collected large sets of data and used a breadth of geospatial tools and techniques to analyse it. His interests include innovative data collection methods, human geography, machine learning and geospatial analysis.
Outside of work, Arif trains in Brazilian Jiu-Jitsu. He also enjoys football and is an avid Chelsea supporter.