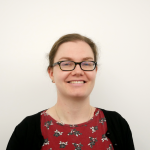 Strategic Planning Officer
Rachel joined the Data Science Campus in October 2018 for a 12-month posting on the Generalist Fast Stream programme. Her role includes developing ways of demonstrating the Campus's impact (such as our two-year review), financial planning and working on developing partnerships, such as the strategic partnership with Cardiff University.
Before joining the Campus, Rachel took a BA in Biological Sciences at Oxford University, and a PhD in plant molecular genetics and development at the John Innes Centre in Norwich. She then worked for a housing association for a year to implement their GDPR programme.
Rachel is also involved in the Campus' schools engagement strategy and the Science, Technology, Engineering and Mathematics (STEM) Ambassador scheme, co-ordinating training for Office for National Statistics (ONS) staff.