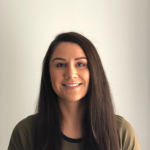 Business Delivery Support
Jodie joined the Data Science Campus in September 2020, having previously worked in an education support background for several years. Her main skills are working in collaboration with others and being adaptable. She is looking forward to gaining new knowledge and developing her skills at the Campus.
In her spare time, Jodie enjoys cooking and spending time with her family, being active and going on outdoor adventures with them.