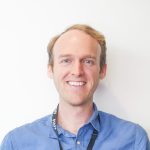 Data Science Lecturer
Dan joined the Data Science Campus as a lecturer in October 2018 to support the development of data science capability across government through training, mentoring and research. Dan is a Geographer, enjoys coding in Python and tolerates coding in R. He is particularly fond of promoting and supporting the use of geospatial data and methods.
Previously, Dan was a Research Fellow at the London School of Hygiene and Tropical Medicine specialising in health geography. Dan completed a PhD in Geography at University College London studying access to primary care services.
Outside of work, Dan enjoys cycling, football, travel and keeping houseplants alive.